Erlend Loe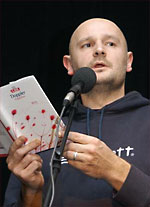 Erlend Loe was born in 1969, in Trondheim, Norway. He studied folklore, movies and literature after he was an exchange-student in France. Afterwards he went to Copenhagen (Denmark) for a screenwriter-course at the Danish Filmschool.
His literary debut came in 1993, with "Tatt av kvinnen". He writes for both children and grown-ups. As from 2000 he has contributed to the scripts of various movies as well.
He has translated some American poems and Danish children's rhymes into Norwegian. Not all of his books are translated into English, not yet at least. He did receive some recognition for his work: the Ministry of Cultural Affairs Prize for "Den store røde hunden" (The Big Red Dog), a childrens picture book, in 1996, The Critics Prize for "Kurt Quo Vadis?", in 1998, and The Booksellers Prize 1999 for "L.".
Reviews of Erlend Loe's books:
© Jim Bella 2002-2007
Last update: Wednesday, February 13, 2007