Desmond Bagley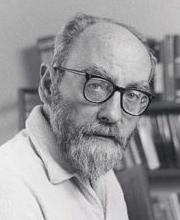 On October 29, 1923, Desmond Bagley was born in Kendal, in the Lake District of England, as son of Hannah and John Bagley. Not long after the family moved to the resort town of Blackpool, when Desmond was 14, he left school. During the next six years he did all sorts of jobs - printer's assistant, factory worker, mechanic - before spending the war-years in the aircraft industry.
In 1947 Bagley started a long journey towards South Africa. He financed his trip by working in various gold and asbestos mines. In 1951 he settled in South-Africa, where he started a career as free-lance writer for newspapers and magazines, and for the Broadcasting Company in Durban. He met the bookstore-owner Joan Margaret Brown in 1959, and in 1960 they married. That was three years after he published his first short story in the English magazine Argosy, and two years before his first published novel.
During the sixties the couple moved to Italy, and later to Guernsey. After the immediate success of that first novel, The golden keel, Bagley turned to full-time novel writing by the mid sixties. He died on April 12, 1983, at the age of fifty-nine. His last two novels were published posthumously.
Reviews of Desmond Bagley's books:
© Jim Bella 2002-2006
Last update: Sunday, October 8, 2006