Lady Chatterley's Lover - D.H. Lawrence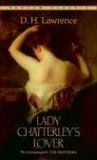 When Constance Reid married Clifford Chatterley in 1917 she didn't know that only a few months later she'd almost be a widow. Seven months after their marriage Clifford returned from World War I as a wreck clinging on to his life. He pulled through, but he would spend the rest of his life in a wheel-chair. Years later they returned to his parental home, Wragby Hall, he as Sir Clifford, she as Lady Chatterley.
Sir Clifford's writing starts to earn him a little, and bring him a little fame. More and more friends from a broad art-scene stay at Wragby Hall, and Lady Chatterly satisfies a physical need Sir Clifford cannot help her with, with Michaelis. The relationship is short lived though, when she notices his own satisfaction is all that matters to him, and he notices that if he won't satisfy her, she will get it herself from him, something he despises.
And then she meets Mellors, the game keeper of the estate. She knew of him, and she had met him once, but they never talked, until one day on her walks through the forest she's drawn towards the sound of a crying child, his daughter. From then on she's fascinated by the man, and during her more frequent they start to get used to each other's company. And one day they became lovers...
The book has a naughty reputation, it was even banned in several countries for quite explicit scenes, but today I wonder where that reputation comes from. On the contrary, those so-called explicit scenes could today be seen as almost poetic, suggesting more than they show. It is a plea for free unconditional love, for experiencing one's sexuality totally unrestrained. It is a plea for a true love-relationship, free of any shame or restrictions, free of any norm or convention, but in stead ready to give in to a totally liberating passion. A wonderful read.
© Jim Bella 2002-2007
Last update: Sunday, April 15, 2007