The Adventures of Sherlock Holmes - Sir Arthur Conan Doyle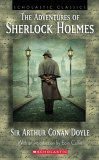 In the coziness of Sherlock Holmes' Victorian chambers each of the twelve short stories of this bundle starts, soon followed by a mystery that baffles the wits of everyone involved - but the wits of Mr. Holmes are of a different league. His friend Dr. Watson has carefully recorded each of the cases so that more than a century later you're allowed to read how Holmes solved each of the twelve cases:

- A Scandal in Bohemia is only just prevented, though for the first time a woman outwits Sherlock Holmes.
- In The Red-Headed League Holmes prevents a crime, though it wasn't going to be committed on the one asking for his assistance.
- In A Case of Identity a stepfather thought he found the perfect way to prevent his stepdaughter from getting married - and getting away with the money that was rightfully hers.
- The Boscombe Valley Mystery looked grim for a son who was accused of killing his father.
- In The Five Orange Pips Holmes has to be really quick if he wants to save someone's live.
- The mystery of The Man with the Twisted Lip may be a mystery, but is it a crime?
- In The Blue Carbuncle a goose plays the role of its lifetime.
- The Speckled Band is a stepfather's tool for securing his capital.
- The Engineer's Thumb is lost, and his life almost too, in this game of deceipt.
- The Noble Bachelor will be a bachelor a little while longer, and not even Sherlock Holmes can change that.
- The Beryl Coronet is not only damaged, it causes an almost unbridgeable split in the family of a banker.
- In The Copper Beeches a woman is asked to do the strangest things, something she is willing to do for the money she's paid, but only until she reaches her limits.

Yes, the setting is outdated. Yes, everything we know today as a handy tool to solve crimes and riddles, like computers, phone-taps, fingerprint-databases, or post-mortem examinations, is absent in these stories. And yet this collection is a very entertaining read, with just enough mystery to make each story credible, just enough clues to make you think you can solve the mystery, and loads of wit and a touch of humour to spice the excellently narrated stories. A must read.
© Jim Bella 2002-2007
Last update: Sunday, January 14, 2007